Offsetting Without Tears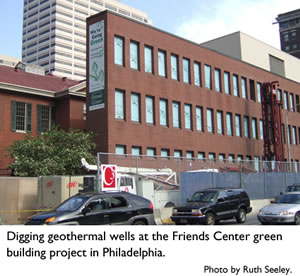 Carbon offsetting, in which individuals, households and corporations "offset the carbon emissions [their] lifestyle generates by funding projects that reduce carbon emissions" (Consumer Reports, March 2008), have become increasingly popular lately. Offsetting seems to offer an accessible way to reduce emissions beyond what is possible by individual conservation alone. In principle, it is a helpful idea. In practice, there are traps for the unwary.
The system seems easy and painless. A family or corporation calculates its carbon footprint (the emissions it generates annually). This is theoretically easy to do using one of the many online carbon footprint calculators. Most calculators—which are in effect fundraising devices—assign a dollar amount per ton to carbon emissions. The user donates this amount to the organization which provided the calculator, and the money goes to projects that are supposed to lower the worlds's overall emissions, usually low-emissions power projects, conservation projects, or reforestation projects.
The difficulties with this approach, although they do not necessarily invalidate the idea of offsetting, should lead us to approach it with care:
Calculating a family or corporate carbon footprint is not a simple matter, and the online calculators are not as easy or helpful as they seem. I tried four of them and got family footprints ranging from 16.0 tons (of carbon) per year to 32 tons. This in turn led to suggested offsetting donations ranging from $236.00 to $640.00.

Every calculator that I tested needed data that was difficult (or in some cases nearly impossible) to get. This shows that the calculators are serious—providing data on energy use requires a lot of record-keeping and research—but it can be frustrating for the user, especially when:

Online carbon footprint calculators ask different questions, which means they are using different metrics and algorhythms for their calculations. Thus it is not surprising that they get different results.

Carbon offsets and providers are currently unregulated in the United States. Consumers should be sure that an offset provider will actually deliver on its promises.

Although contributions to (or investments in) sustainable power and conservation are likely to be useful, experts differ about whether reforestation is likely to have much of an impact. An organization like The Nature Conservancy, which emphasizes reforestation and land management, may have less impact on carbon emissions than a group which invests in sustainable power. (The Nature Conservancy's calculator, however, is the most thorough and easy to use of the ones I tested, which is why I include a link to it in this essay.)

Some, like the environmentalist George Monbiot, argue that carbon offsetting can provide a kind of "license to pollute," allowing families and corporations to think they are saving the planet without changing their own habits—or in some cases, polluting more and rationalizing their bad habits with offsetting. This argument, while perhaps unfair, stands as a reminder that there is no solution to climate change that avoids changes in individual and corporate behavior.
Despite the difficulties, carbon offsetting has in fact raised capital for low-emissions energy and conservation projects—and reforestation, whether or not it sequesters carbon as its advocates claim, is desirable in itself for many reasons. The problem with offsetting is not the concept itself. It is finding the best way to implement it.
Here is one approach that seems reasonable for a small household. First, calculate the household carbon footprint using a good online calculator. The suggested donation will vary with the organization providing the calculator, and in any case, one household may be able to give less, another more. The simplest way to proceed is to use the suggested donation as guideline. One can only do what is within one's power to do.
The keys to this approach are
Offset some of your household's normal usage. Offsetting is of little or no use if it becomes a rationalization for increased emissions.

Do not simply donate to the organization that offers the calculator. If you already know and trust the organization, a donation may be the wisest use of your money. If not, without regulation and established quality standards it can be very difficult to judge. A good alternative is to:

Donate to a good local project that needs financial support to succeed, or invest directly in an alternative energy project or company that needs capital.

In addition to making an offsetting donation, look for additional ways to reduce your household's carbon footprint.
Our family's particular project is the Friends Center's green retrofit in Philadelphia. In the United States, buildings are the third largest source of greenhouse gases after the industrial and transport sectors (EPA figures), which makes green building projects particularly suitable for offsets. The Friends Center was originally a more or less typical energy-intensive 1970s building. It differs from most buildings of its era only in having windows that open, thanks to pressure on the architects from the organizations which built it. Remaking it will save a great deal on carbon emissions even though it is a small building. Supporting a project like this will not, by itself, save the planet. But it is a start.